Bokaro: Former Godda MP of Congress, Furkan Ansari was another leader in the country from Jharkhand who joined the critics within the party by saying "Rahul Gandhi should change his working style, if he wants to strengthen the party". He said that Congress is only a party that is alternative to BJP, but for it they should have to strengthen by bringing improvements.
72-year-old Ansari virtually launched attacks on its own Congress high commands and leaders holding them responsible for the poor show in Bihar elections. He also criticised Jharkhand Congress Incharge, RPN Singh saying "if he had a decision power he would have not made RPN Singh a block level incharge even".  Ansari was speaking to mediapersons during his short stay at Circuit House while going to Godda from Ranchi.
However his anti-party statements have raised concerns of the Bokaro Congress Committee who organised the press conference. Soon after Ansari left, the district president, Manjoor Ansari sent a letter to Jharkhand State Congress Committee narrating the statements Ansari had given against Rahul Gandhi, RPN Singh and Dr Ajoy Kumar demanding action against him.
Furkan Ansari who is also said to be face of minority in Congress in Jharkhand said "the condition of the party will only improve, when Rahul Gandhi will change his advisors sitting in his office. His advisors are keeping him in the dark. They have not come from any political background. They are MBA's and professional degree holders. They can become good managers, not political advisors. They do not know how to connect with voters at the ground level".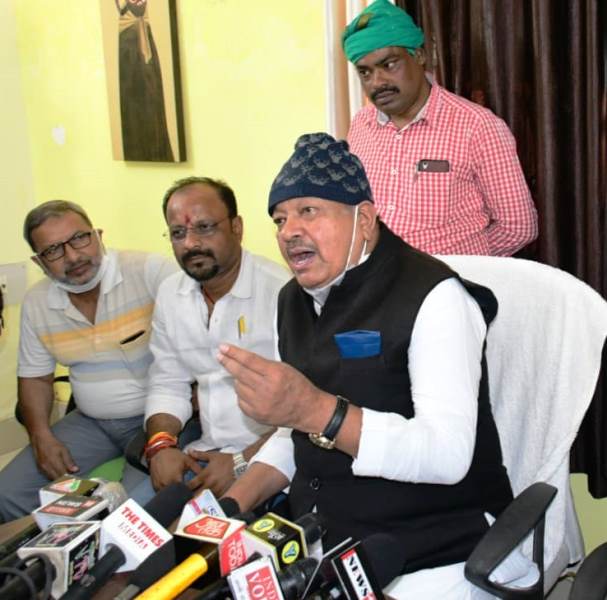 Furkan did not stop at this, he also said that old Congress leaders like him feel very bad when they have to call 'sir' to those professional advisors of Rahul Gandhi. He described the Congress's faced defeat in Bihar due to overconfidence. Besides, inability of big leaders to connect with people at the grassroots level is also one of the main reasons for their defeat in Bihar. Referring to a rally addressed by Rahul Gandhi at Khelgaon (Bihar), he said that people find it a poor show as they did not understand anything that Rahul Gandhi had addressed.
Ansari also said he has sent a letter to Sonia Gandhi and Rahul Gandhi writing all these facts. "I am associated with the Congress ever since Indira Gandhi became Prime Minister in 1980. I am in pain seeing today's Congress condition. Congress is a secular party and only an alternative to BJP. But Congress should have to grow stronger for it. Until the Congress becomes strong, how will its leaders be strong? For this it is necessary to correct the errors.
His son Jamtara MLA and co-working president of the Jharkhand Congress, Irfan Ansari also accompanied him. Furkan Ansari also said that Bihar's election in-charge Dr Ajay Kumar was earlier an officer, how can he handle political affairs effectively? There is a Congress government in Jharkhand, but there is a need to strengthen the organization here.
Ansari also said that he has asked the Jharkhand government to reconsider the prohibition of worship in the Ghats on Chhath festival.